Jeffery Kichen, 9, left, counts in his head to keep track of how long Xavier Salazar, 12, can hold his breath underwater. The city of Victoria, Texas was hit with a rain storm that caused sudden flooding throughout the city due to the already over-saturated ground from Hurricane Harvey.
Kyle Haschke, 16, center, watches from a doorway as Victoria Ballet Theatre dancers rehearse their fall piece, "sub/merged" at the Busby Dancenter in Victoria, Texas on Sept. 23, 2017.
From left to right, Four-H members Landon Miller, Jaden Gonzales and Joshua Carrasco line up outside of the arena for goat showing at the Jackson County Youth Fair in Edna, Texas on Oct. 11, 2017.
Thomas Smith, 66, stands in front of a Texas flag wall painting with a matching Texas flag shirt before the start of the Veterans Day parade in Victoria, Texas on Nov. 11, 2017.
A shadow spelling out "equality" is cast against a wall as a part of an art piece set up at the Women's March Florida at Mana Wynwood in Miami on Jan. 21, 2018.
Vivian Ivalo, 50, who is originally from Argentina but now lives in Miami stands with an American flag during the Women's March Florida at Mana Wynwood in Miami on Jan. 21, 2018. "I attended this because I feel empowered by the people around me," said Ivalo. "This is my second march."
Courtney Mark, 56, pays his respects at the memorials set up outside of Marjory Stoneman Douglas High School during back to school orientation day in Parkland, Fla. on Sunday, Feb. 25, 2018. "It's too close to home not to come," said Mark. "These could have been our kids."
Michael Price, 8, rides the chair swings in the carnival area at the annual Everglades Seafood Festival in Everglades City, Fla. on Saturday, Feb. 10, 2018.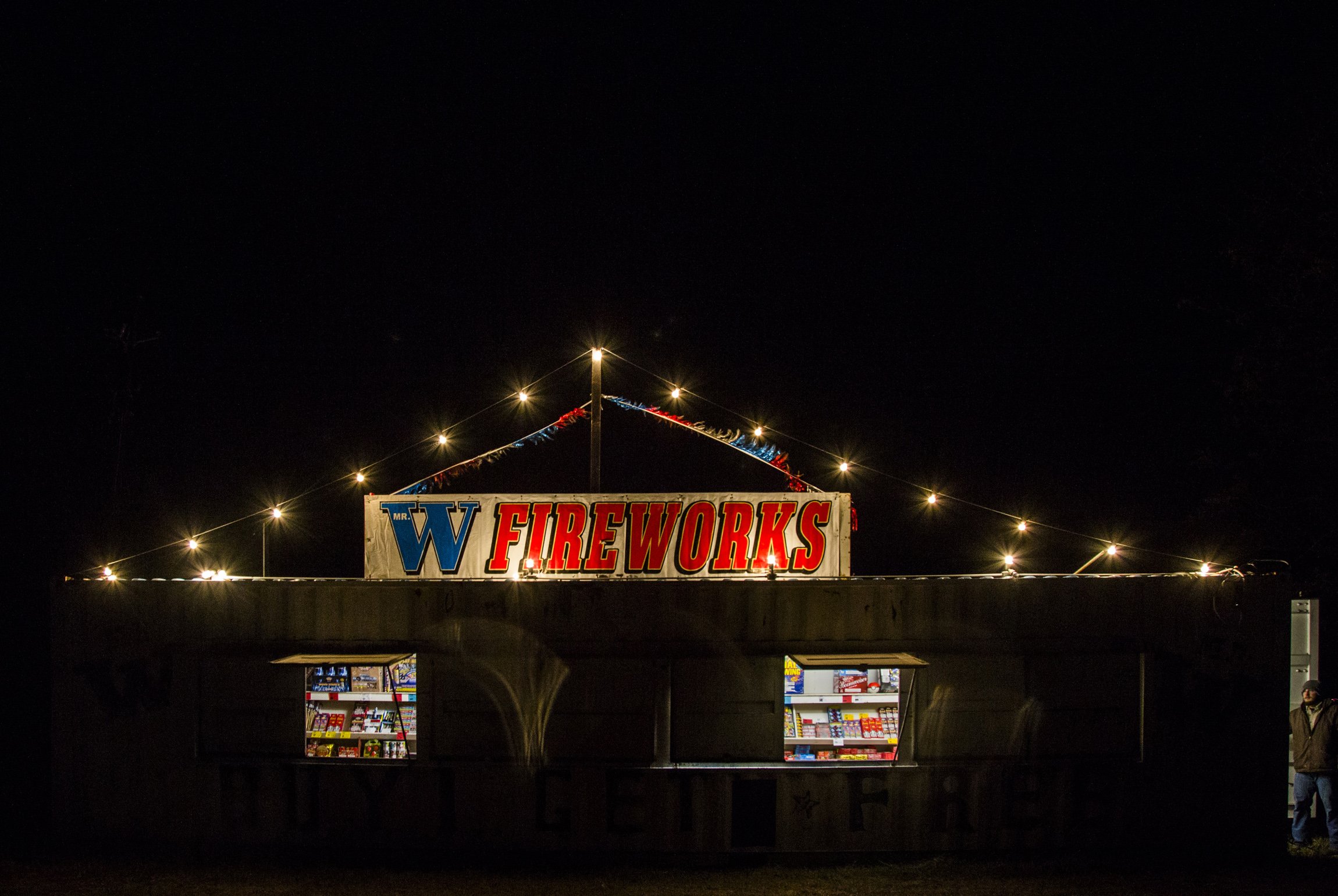 Eli Milner, 21, stands in the doorway of Mr. W Fireworks set up off of U.S. 59 just outside Victoria, Texas on Dec. 28, 2017.
Travis Dixon dances in front of a table of crowns at the Night to Shine event in Naples, Fla. on Friday, Feb. 9, 2018. Night to Shine is a worldwide event put together by the Tim Tebow Foundation to give those with special needs a total prom night experience.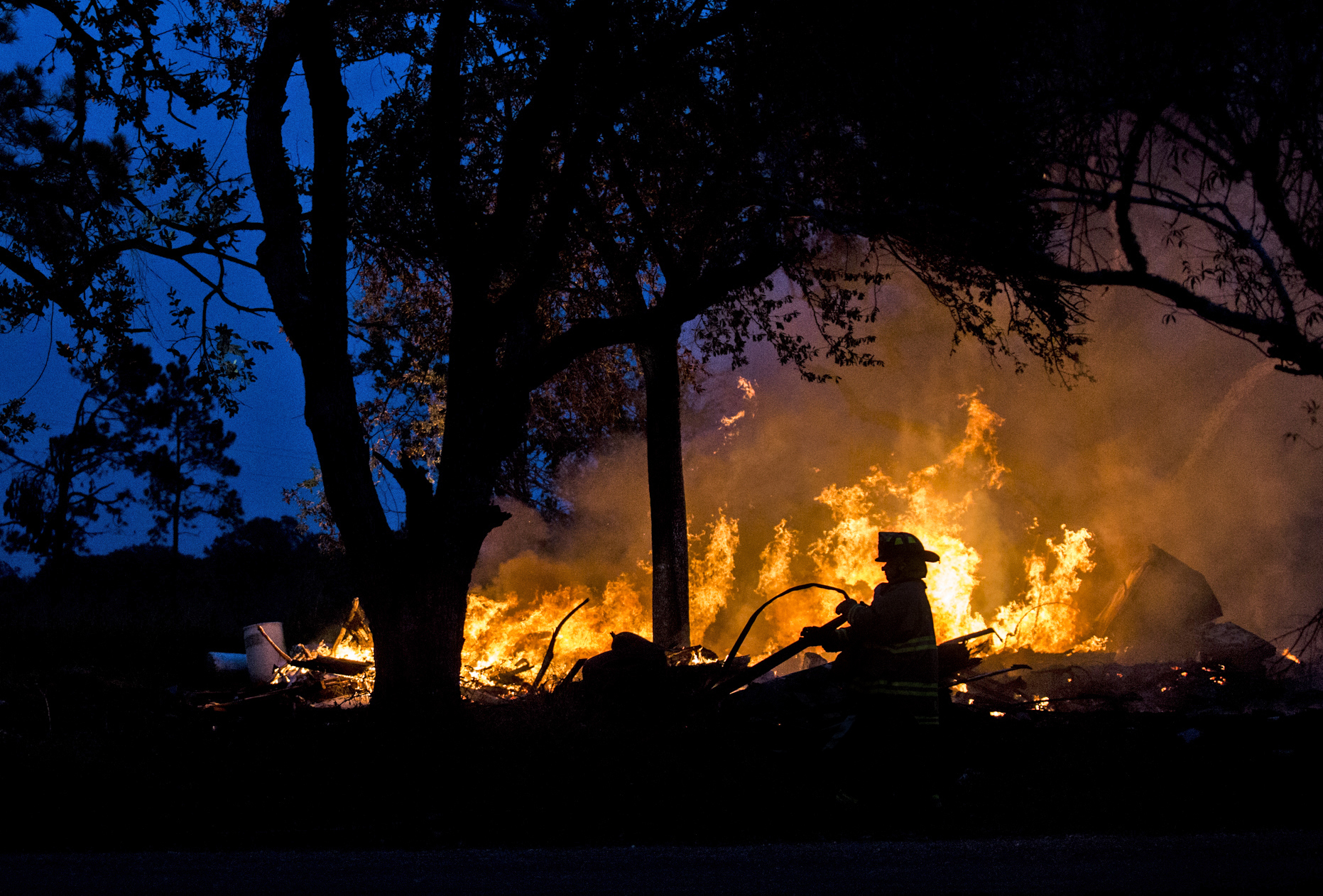 A firefighter drags a water hose closer to a house fire in the 300 block of U.S. Business 77 toward Refugio, Texas on Dec. 28, 2017. The abandoned home was set on fire by the property owner after he ran into complications with trying to have the home demolished.
Corey Carpenter, 7, eats crackers in what used to be his cousin's yard that was flooded when Hurricane Harvey hit Bayside, Texas on Aug. 27, 2017. This small town on the coast was one of a handful of towns hit by the eye of the hurricane.
Felix Perez, 67, rearranges a handful of flowers in Devereux Gardens' flower cooler during one of his work days in Victoria, Texas on Nov. 9, 2017. Perez has always loved working in floral but after being laid off from his job in the floral department of H-E-B he was out of work for months. Thanks to Texas Work Force Commission he was able to get a job at Devereux Gardens doing what he loves again.
Kyler Carpenter, 10, left, and Laela Carpenter, 11, look up through a hole that was torn in their roof by Hurricane Harvey. The cousins surveyed the damage on Aug. 27, 2017 to Laela's family home in Bayside, Texas.
Ernie Kunz, 92, looks into the cockpit of a Consolidated B-24 Liberator during a flight from Vero Beach Fla. to the Naples Municipal Airport on Thursday, Feb. 1, 2017. The flight was made possible by the Collings Foundation to give veterans an opportunity to experience flight in the restored aircraft.
People enjoy the good weather at North Gulf Shore Beach in Naples, Fla. on Feb. 7, 2018.
A protester holds up a mirror at the police lining the ridge of Turtle Hill at Standing Rock, N.D. on Nov. 6, 2016 as a way to flash light at the police and as a symbol for them to reflect on themselves and their actions against the protestors.
Gulf Coast players watch as their keeper blocks a penalty shot during the Class 4A regional final at Gulf Coast High School in Naples, Fla. on Wednesday, Feb. 14, 2018.
Chad Cisneros of Tritonal sprays water onto the crowd at the end of Cash Cash and Tritonal's back-to-back set at The Wilma in Missoula, Mont. on Oct. 21, 2015.
Luchador Pentegón Jr. pours water over himself before heading out to the ring to fight his opponent Réy Fenix during Live Lucha Libre at the Victoria Community Center in Victoria, Texas on July 23, 2017.