Seattle Seahawks' Doug Baldwin tips the football back toward himself to make a catch during 4th quarter of the game against the Kansas City Chiefs on Sunday, Dec. 23, 2018 in Seattle, Wa. The Seahawks went on to win, advancing them to the playoffs.
The Seattle Mariners' Robinson Cano jumps over teammate Mitch Haniger during the Sunday game against the Los Angeles Dodgers on Aug. 19, 2018 in Seattle, Wa. The Mariners lost to the Dodgers, 12-1.
Caden Delaney squints in concentration as he is taught how to steer by USA luger Aidan Kelly during the USA Luge/White Castle Slider Search program at the Arrowhead Ranch soap box derby course on Camano Island on Sunday, May 19, 2019. USA Luge uses soap box derby courses across the country to search for potential new athletes.
Steam from Marysville-Pilchuck player's breath rises above the their offensive huddle before the snap during the annual Berry Bowl game against Marysville-Gretchell on Oct. 5, 2018 in Marysville, Wa.
Lake Stevens' Ian Hanson hugs teammate Isaiah Harris while he cries after winning the Class 4A state semifinal game against Woodinville at Pop Keeney Stadium on Saturday, Nov. 24, 2018 in Bothell, Wa.
The sun breaks through the clouds as a pole vaulter practices before the start of the 3A boys pole vaulting final during the 4A/3A/2A State Track Field Championships at Mount Tahoma High School on Friday, May 24, 2019 in Tacoma, Wash.
Seahawks' Russel Wilson raises his arms to pump the crowd up before the game against the Dallas Cowboys on Sept. 23, 2018 in Seattle, Wa.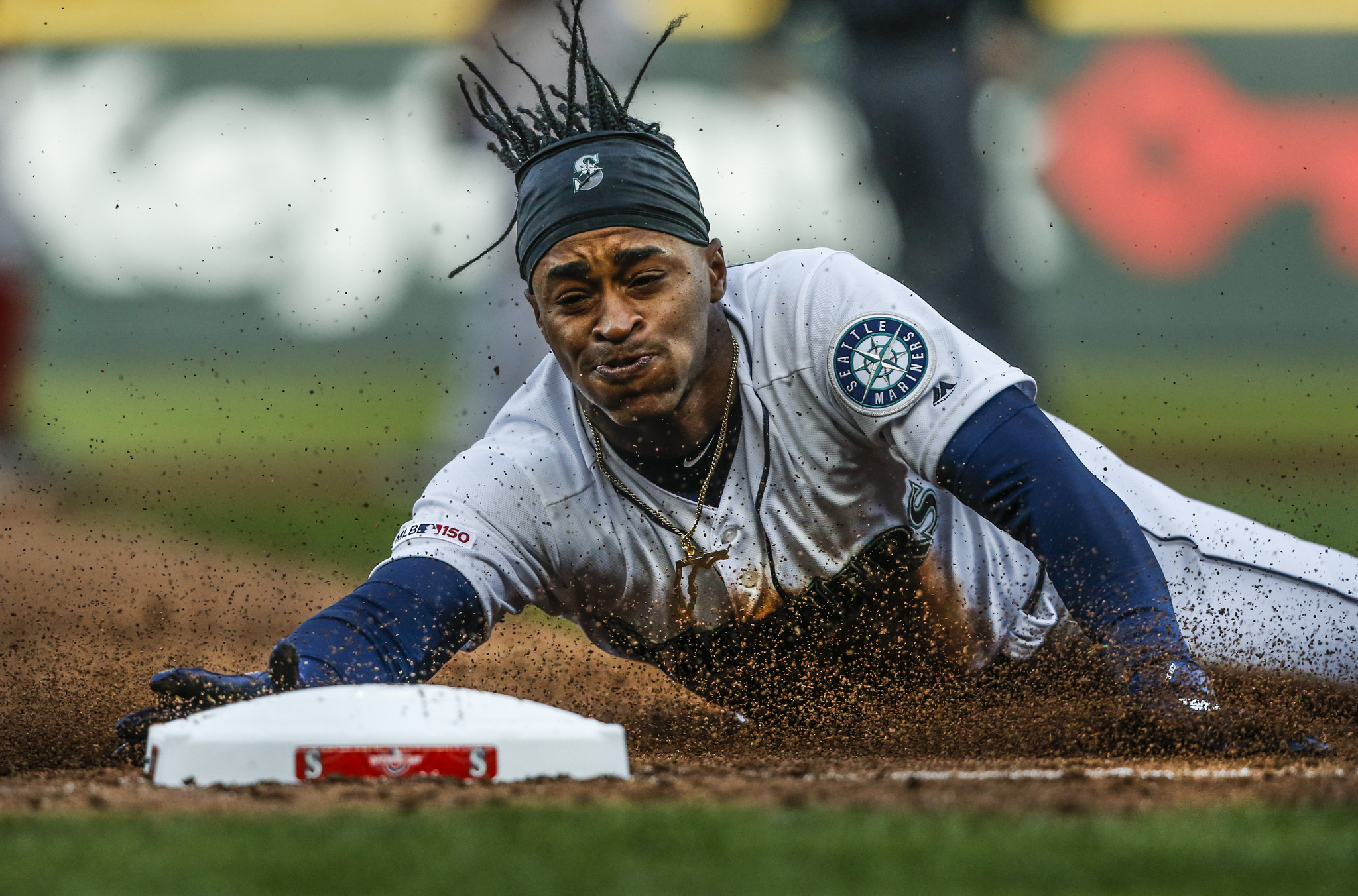 Mariners' Mallex Smith slides into third base during the Opening Day game against the Boston Red Sox at T-Mobile Park on Thursday, March 28, 2019 in Seattle, Wash.
Griz guard Jack Lopez blocks a shot attempt by Northern Colorado guard Tyler Loose during the game at the Dahlberg Arena on March 5, 2016.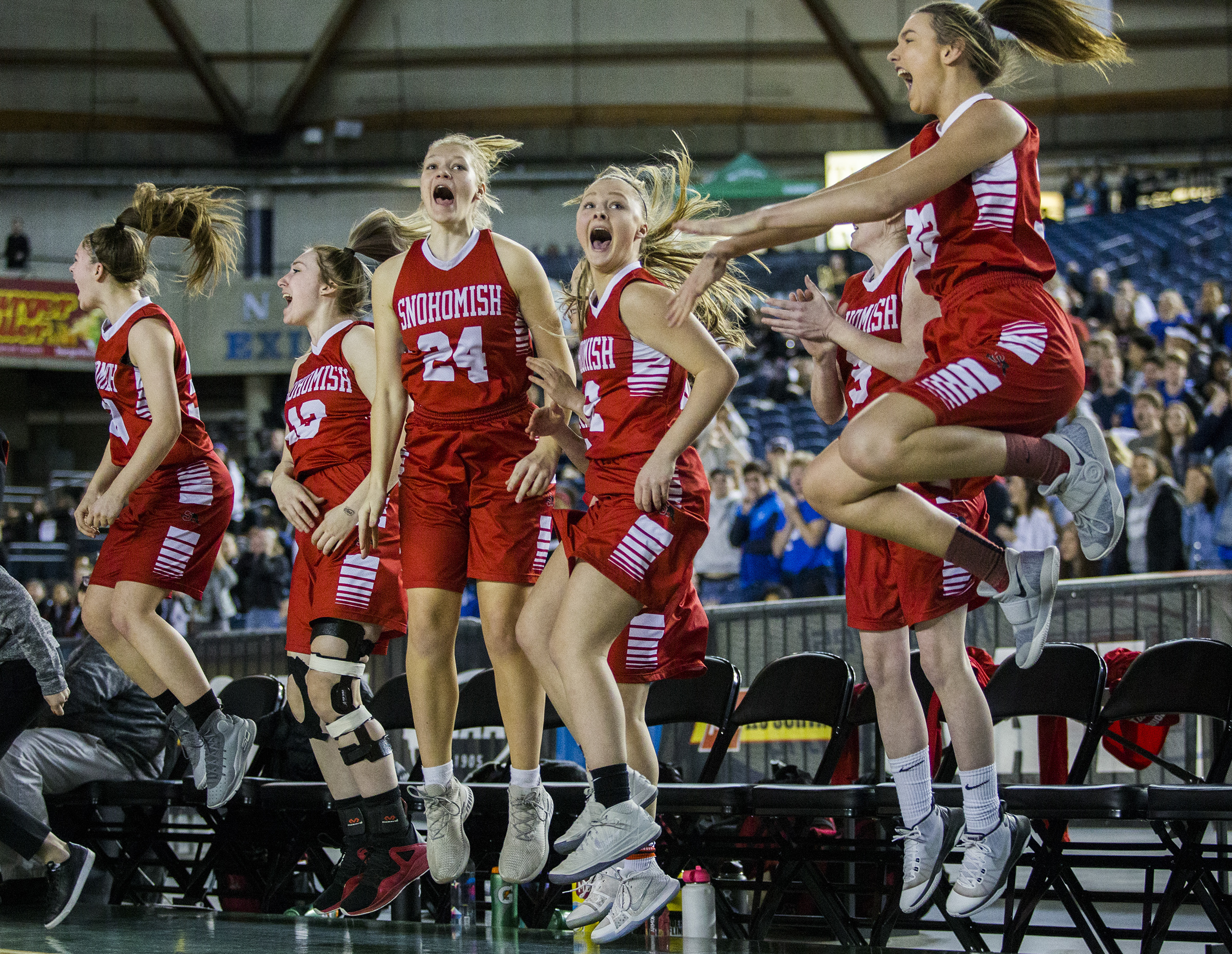 The Snohomish bench reacts to a final second winning shot by teammate Maya DuChesne during the game against Seattle Prep at the 3A Girls Hardwood Classic on Wednesday, Feb. 27, 2019 in Tacoma, Wa. This win advanced Snohomish to the state quarterfinal game.
Everett AquaSox's Ryan Ramiz dives for a catch and misses during the Sunday game against the Eugene Emeralds at Everett Memorial Stadium on Aug. 12, 2018 in Everett, Wa.
Connall Powers attempts to take down opponent Nick Meyers during MMA Revolution Cage Combat on Feb. 24, 2017.
Calhoun High School's Daniel Martinez prepares to lead his team onto the field before the start of Friday's game against Victoria East High School in Port Lavaca, Texas on Nov. 3, 2017.
Montana State Bobcat players, Patrick Carroll, left, Monte Folsom, center, and Alex Neale, right, carry The Great Divide Trophy around Washington-Grizzly Stadium for a victory lap after the game on Nov. 19, 2016. The Bobcats won the 116th Brawl of the Wild, 24-17.